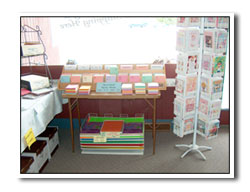 Q: What type of files or programs to you accept?
A: We prefer PDF files whenever possible, but we also have In Design, Photoshop, Illustrator, Publisher, and MS Office.
Q: What resolution should my pictures be?
A: For best quality pictures should be at least 300 dpi.
Q: What file format should my pictures be in?
A: We prefer .tiff or .jpg files.
Q: How should the electronic files be sent?
A: Smaller files can be emailed to design1@printery.net or julie@printery.net. Larger files can be brought in on a disc or portable drive.
Q: How do I make sure what I see on my computer screen is what is printed?
A: Make sure you include a proof, either on paper or a pdf for us to match. And make sure to include all associated fonts and art files whenever possible. We normally will print out a sample for you to see before we proceed with your project.